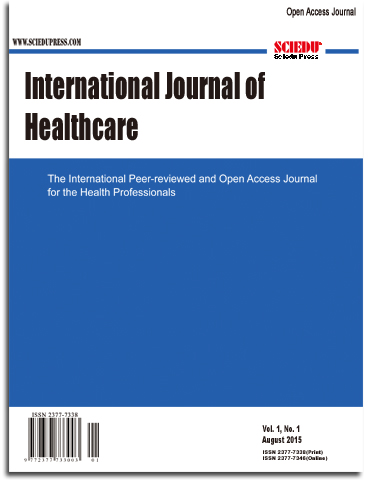 International Journal of Healthcare (IJH) is a peer-reviewed international journal dedicated to promoting scholarly exchange among teachers and researchers in the field of healthcare. The journal is published frequency in both print and online versions by the Sciedu Press. The online version of the journal could be browsed and downloaded free of charge. All the publications can be searched from Google Scholar Citations.
Authors are encouraged to submit complete, unpublished, original, and full-length articles that are not under review in any other journals. The journal is striving to achieve high quality through double-blind peer review, as specified in Author Guidelines.
Areas include but are not limited to:
Public Health
Health Policy
Health Services
Healthcare Delivery
Healthcare Ethic
Healthcare Providers
Healthcare Reform
Healthcare Systems
Healthcare Quality
Healthcare Facilities
Healthcare Financing
Healthcare Administration
Health Information
Mental Health
Acute/Emergency Care
To facilitate rapid publication and to minimize administrative costs, the journal accepts Online Submission and Email Submission.
Sections
Original Articles, Reviews, Case Studies.
Statistics
2020Q1: Articles Received: 16; Accepted: 7; Rejected: 3; Published: 7; Retracted: 0
2019: Articles Received: 30; Accepted: 14; Rejected: 12; Published: 15; Retracted: 0
2018: Articles Received: 24; Accepted: 19; Rejected: 9; Published: 18; Retracted: 0
2017: Articles Received: 33; Accepted: 18; Rejected: 11; Published: 20; Retracted: 0
2016: Articles Received: 43; Accepted: 19; Rejected: 18; Published: 19; Retracted: 0
---------------------------------------------------------------------
What is e-Version FirstTM
e-Version First is a feature offered through our journal platform. It allows PDF version of manuscripts that have been peer reviewed and accepted, to be hosted online prior to their inclusion in a final printed journal. Readers can freely access or cite the article. We aim to publish accepted manuscripts in e-Version First in two weeks' time after the final draft completed.
---------------------------------------------------------------------
Paper Selection and Publication Process
a) Upon receipt of paper submission, the Editor sends an E-mail of confirmation to the corresponding author within 1-3 working days. If you fail to receive this confirmation, your submission/e-mail may be missed. Please contact the Editor in time for that.
b) Peer review. We use double-blind system for peer-review; both reviewers and authors' identities remain anonymous. The paper will be peer-reviewed by three experts; two reviewers from outside and one editor from the journal typically involve in reviewing a submission. The review process may take 2-4 weeks.
c) Notification of the result of review by E-mail.
d) The authors revise paper and pay publication fee (200.00 USD).
e) After publication, the corresponding author will receive the printed journal free of charge.
f) E-journal in PDF is available on the journal's webpage, free of charge to download.

NOTE:
The publisher and journal have a policy of "Zero Tolerance on the Plagiarism". We check the plagiarism issue through two methods: reviewer check and plagiarism prevention tool (ithenticate.com).
All submissions will be checked by iThenticate before being sent to reviewers.
---------------------------------------------------------------------
Announcements
Acknowledgements to Reviewers

The editors of IJH would like to thank all the reviewers who made excellent work and great contribution to our journal in 2019. Without the reviewers' professional knowledge, skill and great help, IJH could not achieve such high standards. Please accept our heartfelt gratitude and wishes.

May joy, peace, and happiness be with you and your entire family always!

Posted: 2020-01-01
Vol 6, No 2 (2020)
International Journal of Healthcare, Vol. 6, No. 2, November 2020, e-Version First TM
Table of Contents
Original Articles
| | | |
| --- | --- | --- |
| | Jessie Johnson, Arlene Masaba, Sadia Munir, Robin O'Dwyer, Amber Smith, Khalid Elawad, Samya Ahmad Al Abdulla | p8 |
| | | |
| --- | --- | --- |
| | Maria Francineth Bauleth, Honore Kabwebwe Mitonga, Lusia Ndahambelela Pinehas | p23 |
| | | |
| --- | --- | --- |
| | Maribel Cervantes-Ortega, Senxi Du, Kelly A. Biegler, Sadeeka Al-Majid, Katelyn C. Davis, Yunan Chen, Alfred Kobsa, Dana B. Mukamel, Dara H. Sorkin | p35 |
| | | |
| --- | --- | --- |
| | Tu T. Tran, Bryan Pham, Tiana Vo, Jane Hodding, Jennifer Le | p62 |
Reviews
| | | |
| --- | --- | --- |
| | Aisha Noor Mohammad​ Khan, Jessie Johnson, Asma Al Bulushi | p1 |
| | | |
| --- | --- | --- |
| | Ilana Boucher, Sharon L. Bourke, Janet Green, Elianna Johnson, Linda K. Jones | p14 |
| | | |
| --- | --- | --- |
| | Eyob Z. Asbu, Maysoun D. Masri, Marwan Al Naboulsi | p44 |
| | | |
| --- | --- | --- |
| | Areej Al-Hamad, Cheryl Forchuk, Abe Oudshoorn, Gerald McKinley | p54 |