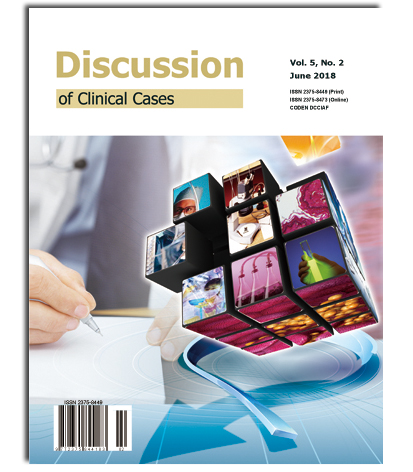 Discussion of Clinical Cases (PRINT ISSN 2375-8449, ONLINE ISSN 2375-8473) is an open-access journal, dedicated to keep scientists, clinical and medical practitioners, researchers informed about the ongoing research and the current developments regarding typical diseases. Articles must be authentic, understandable, educational and clinically interesting to an international audience of clinicians, trainees and researchers in all medical fields.
Authors are encouraged to submit complete, unpublished, original, and full-length articles that are not under review in any other journals. The journal is striving to achieve high quality through double-blind peer review, as specified in Author Guidelines.
The journal was acquired by Sciedu Press in March 2019, and now is jointly published by the GENERTEC AMHT Inner Mongolia Baogang Hospital and Sciedu Press.
To facilitate rapid publication and to minimize administrative costs, the journal accepts Online Submission and Email Submission.
DCC's sections:
Original Articles, Case Reports, Reviews
What is e-Version FirstTM
e-Version First is a feature offered through our journal platform. It allows PDF version of manuscripts that have been peer reviewed and accepted, to be hosted online prior to their inclusion in a final printed journal. Readers can freely access or cite the article. We aim to publish accepted manuscripts in e-Version First in two weeks' time after the final draft completed.
---------------------------------------------------------------------
Paper Selection and Publication Process
a) Upon receipt of a submission, the editorial assistant sends an e-mail of confirmation to the submission's author within 1-3 working days. If you fail to receive this confirmation, your submission/e-mail may have been missed. Please contact the editorial assistant in time for that.
b) Peer review. We use a double-blind system for peer-review; both reviewers and authors' identities remain anonymous. The paper will be reviewed by at least two experts: one editorial staff member and at least one external reviewer. The review process may take 4-10 weeks.
c) Notification of the result of review by e-mail.
d) A PDF version of the journal is available for download on the journal's website, free of charge.
NOTE:
The publisher and journal have a policy of "Zero Tolerance on the Plagiarism". We check the plagiarism issue through two methods: reviewer check and plagiarism prevention tool (ithenticate.com).
All submissions will be checked by iThenticate before being sent to reviewers.
---------------------------------------------------------------------
Announcements
Call for Papers--Discussion of Clinical Cases

We are honored to invite you to submit your latest research to Discussion of Clinical Cases.

Discussion of Clinical Cases is a peer-reviewed journal published quarterly by Sciedu Press, dedicated to keep scientists, clinical and medical practitioners, researchers informed about the ongoing research and the current developments regarding typical diseases.

There is no publication or processing fee, and we select 20 excellent articles each year and award the first author of the articles with a Best Paper Certificate and 100 USD reward. Articles in any format will be considered, including original research, reviews, clinical reports and letters. The reviewing process generally takes about 2-4 weeks.  

The submission deadline is July 31st, 2022. You can submit your papers by Email Submission or Online Submission.
Posted: 2022-05-11

Reviewers Recruitment

Discussion of Clinical Cases (DCC) is pleased to announce a reviewers recruitment. It is a voluntary position for a term of approximately two years. As a referee, you may be required to review 4-8 manuscripts per year and make accept, revise, resubmit or reject decisions according to the quality of articles. 

Should you be interested in accepting this invitation

, please email us a CV, including your current affiliation, education experience, research interests and your published articles, or register your information at the official website.
Posted: 2022-01-24

Call for Papers--Discussion of Clinical Cases

Discussion of Clinical Cases (DCC) is pleased to announce a call for papers for Vol. 9, No. 2. Articles in all areas of clinical cases, including Internal Medicine, Surgery, Neurology, Clinical Laboratory Diagnostics, Ophthalmology, Obstetrics and Gynecology, Otolaryngology, Oncology, Radiology, Emergency Medicine, Anesthesiology, and so on, will be considered. The sections of the journal are: Original Articles, Reviews or Case Reports. The submission deadline is May 15th, 2022. You can submit your papers by Email Submission or Online Submission.
Posted: 2022-01-06
Vol 10, No 2 (2023)
Discussion of Clinical Cases, Vol. 10, No. 2, June 2023
Table of Contents
Case Reports
| | | |
| --- | --- | --- |
| | Robin Man Karmacharya, Satish Vaidya, Binay Yadav, Sanjay Sharma, Soniya Maharjan, Swechha Bhatt, Kajol Kunwar | p1 |