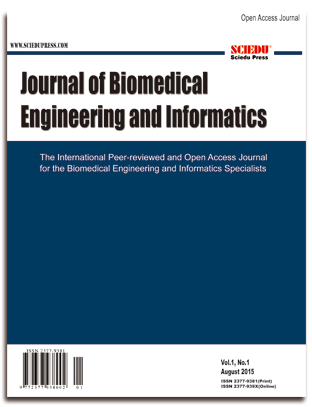 >> The journal is under re-structure, and will not accept new submissions. Thanks. 
Journal of Biomedical Engineering and Informatics (JBEI) is an international, peer-reviewed, open-access journal. JBEI is published in both print and online versions, and the online version is available for free. JBEI is designed to reflect a commitment to high-quality original research papers, reviews, and case reports in the area of Biomedical Engineering and Informatics. All the publications can be searched from Google Scholar Citations.

JBEI publishes important advances in Biomedical Engineering that include theoretical and applied studies of all aspects of Biomedical Engineering and Informatics. JBEI is one of the most current communication journals with articles published online within 1-2 weeks after acceptance of manuscripts.
Areas include but not limited to:
Tissue Engineering

Genetic Engineering

Neural Engineering

Pharmaceutical Engineering

Medical Devices

Clinical Engineering

Healthcare Informatics

Consumer Health Informatics

Clinical Bioinformatics

Biological Materials

Biomechanics

Biomedical Optics and Imaging

Biomedical Digital Signal Processing

Bioinformatics


Informatics for Education & Research in Health & Medicine
To facilitate rapid publication and to minimize administrative costs, the journal accepts Online submission and Email submission. All manuscripts and any supplementary material can be submitted via the journal's Online Submission or email to jbei@sciedupress.com. For online submission, please create a new account and then follow the instructions given on the screen.
JBEI's Sections:
Original Articles, Case Reports, Reviews.
---------------------------------------------------------------------
What is e-Version FirstTM
e-Version First is a feature offered through our journal platform. It allows PDF version of manuscripts that have been peer reviewed and accepted, to be hosted online prior to their inclusion in a final printed journal. Readers can freely access or cite the article. We aim to publish accepted manuscripts in e-Version First in two week's time after the final draft completed.
---------------------------------------------------------------------
Paper Selection and Publication Process
a) Upon receipt of paper submission, the Editor sends an E-mail of confirmation to the corresponding author within 1-3 working days. If you fail to receive this confirmation, your submission/e-mail may be missed. Please contact the Editor in time for that.
b) Peer review. We use double-blind system for peer-review; both reviewers and authors' identities remain anonymous. The paper will be peer-reviewed by three experts; two reviewers from outside and one editor from the journal typically involve in reviewing a submission. The review process may take 2-4 weeks.
c) Notification of the result of review by E-mail.
d) The authors revise paper and pay publication fee (200.00 USD).
e) After publication, the corresponding author will receive the copy of printed journal, free of charge.
f) E-journal in PDF is available on the journal's webpage, free of charge for download.

NOTE:
The publisher and journal have a policy of "Zero Tolerance on the Plagiarism". We check the plagiarism issue through two methods: reviewer check and plagiarism prevention tool (ithenticate.com).
All submissions will be checked by iThenticate before being sent to reviewers.
---------------------------------------------------------------------
Announcements
JBEI will suspend publishing

JBEI is going to restructure the editorial board and policies and will not accept new submissions from now on.  I'm sorry for any inconvenience that caused.
Posted: 2019-06-05
More...

Call for Papers--Journal of Biomedical Engineering and Informatics

We are calling for papers for

Journal of Biomedical Engineering and Informatics. The reviewing process takes about 2-4 weeks. If you have any suitable manuscripts, please submit them to jbei@sciedupress.com or online: http://www.sciedupress.com/journal/index.php/jbei/about/submissions#onlineSubmissions
Posted: 2018-08-14
More...
Vol 4, No 2 (2018)
Journal of Biomedical Engineering and Informatics, Vol. 4, No. 2, 2018, e-Version FirstTM
Table of Contents
Original Articles
| | | |
| --- | --- | --- |
| | Angelica Campigotto, Stephane Leahy, Ayan Choudhury, Guowei Zhao, Yongjun Lai | p1 |
| | | |
| --- | --- | --- |
| | Capoccia M, Marconi S, De Lazzari C | p8 |
| | | |
| --- | --- | --- |
| | Ojaswita Chaturvedi, Edward Lungu, Mandu Jeffrey, Shedden Masupe | p21 |