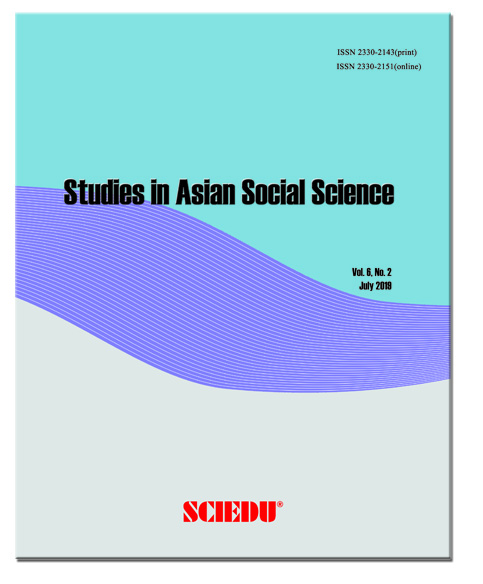 Studies in Asian Social Science (SASS) is an international, peer-reviewed, open-access journal, published by the Sciedu Press. It publishes original research, applied, and educational articles in all areas of Asian social science. Authors are encouraged to submit complete, unpublished, original works that are not under review in any other journals.
The scopes of the journal include, but are not limited to, the following fields:
Anthropology
Communication studies
Cultural studies
Economics
Business
Management
Education
Human geography
History
Law
Linguistics
Literature
Political science
Psychology
Sociology
To facilitate rapid publication and to minimize administrative costs, contributions to Studies in Asian Social Science (SASS) can be submitted via the journal's online submission system Online Submission or email to sass@sciedupress.com
The journal is published in both print and online versions. The online version is free access and download.
Announcements
Policy Change of Free Print Journals

As you are aware, printing and delivery of journals results in causing a significant amount of detrimental impact to the environment. Being a responsible publisher and being considerate for the environment, we have decided to change the policy of offering free print journals for authors.

From July 1, 2018, we will not automatically provide authors free print journals. However, when authors really need free print copies, they are requested to kindly complete an application form to order printed copies. Once approved,  we will arrange print and delivery, for a maximum of two copies per article.  If authors require more than two copies, they are requested to order online at: store.sciedupress.com.

Additionally, we are happy to provide journal's eBook in PDF format for authors, free of charge. The eBook is the same as the printed version, but it is completely environmentally friendly. Please contact the journal editor to request eBook of the journal's issues.

We are committed to saving the planet for our future generations.

Posted: 2018-01-25

Reviewer Recruitment

Status: Part time                           Working language: English
Working style: Internet-based       Payment: Volunteer job, no payment

Requirements
1. Possess a doctoral degree in a discipline related closely to the journal
2. Hold a teaching or research position at a university or academic institution
3. Be fluent in academic and professional English
4. Have a strong interest in the scholarly journal
5. Work quickly and accurately under tight deadlines

How to Apply

1. Complete the application form  http://web.sciedupress.com/recruitment.html

2. Send your application form to:  sass@sciedupress.com

Posted: 2017-04-08

Paper Selection and Publication Process

a). Upon receipt of paper submission, the editorial assistant sends an E-mail of confirmation to the corresponding author within 1-3 working days. If you fail to receive this confirmation, your submission/e-mail may be missed. Please contact the editorial assistant in time for that.

b). Peer review. We use double-blind system for peer-review; the reviewers' identities remain anonymous to authors. The paper will be reviewed by at least three experts: one editorial staff member and at least two external reviewers. The review process may take 4 to 10 weeks.

c). Notification of the result of review by E-mail.

d). The authors revise paper and pay Article Processing Charge (300 USD).

e). E-journal in PDF is available on the journal's webpage, free of charge for download.

NOTE:

The publisher and journal have a policy of "Zero Tolerance on the Plagiarism". We check the plagiarism issue through two methods: reviewer check and plagiarism prevention tool (ithenticate.com). All submissions will be checked by iThenticate before being sent to reviewers.

Posted: 2013-06-08