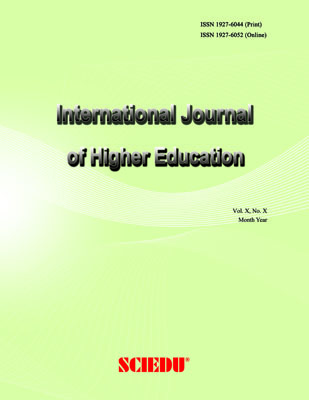 International Journal of Higher Education (ISSN 1927-6044  E-ISSN 1927-6052) is a double-blind peer-reviewed journal, published by Sciedu Press. The journal seeks to publish original research articles that are hypothetical and theoretical in its nature and that provide exploratory insights in the fields of educational theory, teaching method, instructional design, students management, case studies etc. in both undergraduate and graduate levels. The editorial board aims to publish high-quality research or review papers focusing on teaching, researching, training and applied work in the field of higher education. The journal is published in both printed and online version. The online version is free access and download.
This journal accepts article submissions online or by e-mail (ijhe@sciedupress.com).
ABSTRACTING AND INDEXING:
------------------------------------------------------------
Open Access Policy:
This journal provides immediate open access to its content on the principle that making research freely available to the public supports a greater global exchange of knowledge.
Copyright Policy:
Copyrights for articles are retained by the authors, with first publication rights granted to the journal. Authors have rights to reuse, republish, archive, and distribute their own articles after publication. The journal/publisher is not responsible for subsequent uses of the work.
This journal is licensed under a Creative Commons Attribution 4.0 License.
------------------------------------------------------------
Statistics
2023Q1: Articles Received: 20; Accepted: 11; Rejected: 11; Published: 10; Retracted: 0
2022: Articles Received: 162; Accepted: 91; Rejected: 69; Published: 138; Retracted: 0
2021: Articles Received: 304; Accepted: 210; Rejected: 114; Published: 138; Retracted: 1
2020: Articles Received: 879; Accepted: 337; Rejected: 501; Published: 291; Retracted: 3
2019: Articles Received: 438; Accepted: 216; Rejected: 194; Published: 189; Retracted: 0
2018: Articles Received: 206; Accepted: 140; Rejected: 65; Published: 111; Retracted: 0
2017: Articles Received: 166; Accepted: 119; Rejected: 44; Published: 112; Retracted: 0
2016: Articles Received: 171; Accepted: 118; Rejected: 51; Published: 103; Retracted: 0
2015: Articles Received: 145; Accepted: 88; Rejected: 43; Published: 72; Retracted: 0
2014: Articles Received: 120; Accepted: 78; Rejected: 39; Published: 58; Retracted: 0
2013: Articles Received: 127; Accepted: 79; Rejected: 39; Published: 71; Retracted: 0
------------------------------------------------------------
Issues 
------------------------------------------------------------
What is e-Version FirstTM
e-Version First is a feature offered through our journal platform. It allows PDF version of manuscripts that have been peer reviewed and accepted, to be hosted online prior to their inclusion in a final printed journal. Readers can freely access or cite the article. We aim to publish accepted manuscripts in e-Version First in two week's time after the final draft completed.
------------------------------------------------------------
Paper Selection and Publishing Process
a) Submission Acknowledgement
When you submit a manuscript online, you will receive a submission acknowledgement letter sent by the online system automatically. For email submission, the editor or editorial assistant sends an e-mail confirmation to the submission's author within one to three working days. If you fail to receive this confirmation, please check your bulk email box or contact the editorial assistant by email: ijhe@sciedupress.com.
b) Basic Review
After receiving the submission, the editor or editorial assistant checks the paper's scope, language, bibliography, references, ethics, conflict of interest, etc.. Next a check for the similarity rate is done using CrossCheck, powered by iThenticate. Any manuscripts out of the journal's scope or containing plagiarism, including self-plagiarism, are rejected.
c) Peer Review
We use double-blind system for peer-review. The paper will be peer-reviewed by at least three experts; two reviewers from outside and one editorial staff from the journal typically involve in reviewing a submission. The review process may take 4-10 weeks. 
d) Decision Is Made
The decision to accept or reject an article is made based on the scores provided by the reviewers on this paper. When the average score is ≥2.75/5, the paper would be accepted for publication. In most cases, authors are required to revise the paper according to the comments from the reviewers and editorial staffs. If differences of opinion occur between reviewers, the editor-in-chief will weigh all comments and arrive at a balanced decision based on all comments, or a second round of peer review may be initiated.
e) Notification of the Result of Review
The result of review will be sent to the corresponding author and forwarded to other authors.
f) Article Processing Charge Is Paid
If the submission is accepted, the authors revise paper and pay the Article Processing Charge (600.00USD).
g) Publication Notice
The authors and readers will be notified and invited to visit our website for the newly published articles.
Announcements
Message from the Editor-in-Chief Dr. Ingrid Harrington (Vol. 12, No. 2, April 2023)

A warm welcome to all our regular audience and to those new to the journal! The IJHE focus is to publish innovative and impactful research articles at both undergraduate and graduate levels, in the fields of educational theory, teaching methods, instructional design, and student management. This issue is no exception with a strong focus on IT and how technology in general can assist those involved in higher education. We enjoy contributions from Germany, the USA, Spain, Israel, Thailand, China, the UAE, and Belgium.

 

Whilst we have weathered the COVID-19 disruption to varying degrees, we still live in times of global insecurity, violence and upheaval. Our role as educators never-the-less continues with challenges and situations we must manage in order to extend our message to students. The IJHE is proud to disseminate research findings that empower and may ameliorate some of the challenges we face in higher education.

 

The first article of this issue is from von Wachter and Lewalter who undertook a systematic literature review of 18 eligible studies published between 2014 and 2022, regarding the use of annotations, their implementation in teacher training, and their effect on the development of professional competencies as a result of using video annotations as a supporting tool for video-based learning. These studies confirmed that video annotations were generally used to perform one of three functions: feedback, communication, and documentation. Concurrently, they also enabled a deeper content knowledge of teaching, reflective skills, and professional vision, and facilitated social integration and recognition. The second article by Joshua Singer considered the job satisfaction and joy experienced by Special education teachers in the USA, despite being underfunded, overstressed, and burdened with societal and political pressures. He found that the highest levels of teacher job satisfaction was related to co-workers, but teacher joy was reported almost exclusively as a product of working closely with students. The third article examined whether games-based learning improved the motivation and the performance of students in the Degrees of Business Studies and Economics. The findings of Lloréns and Sánchez-Ballesta report that games-based learning helped to improve the motivation and performance of students, especially when they had an interest in advancing with their studies. The fourth article from Ben-Amram and Davidovitch examined the efficacy of an internship workshop combining simulations for teacher residents, and whether combining simulations in the workshop constituted a teacher training tool that bridged academia and the field, with regard to group cohesion and evaluation of personal functioning in the workshop. Their findings illuminate the importance of integrating simulations in internship workshops for teacher residents, which strengthens the association between academia and actual work at the school.

 

Panas Wongrattana created a model for developing excellence in quality of life for the ageing at elderly schools in the Northeast of Thailand. Six key components of an 'excellent' life quality for the elderly were identified: 1) vital environment, 2) physical health, 3) economic well-being, 4) social well-being, 5) mental and emotional well-being, and 6) spiritual or intellectual well-being. The study reported that all participants were more satisfied and happy than before. The sixth study from Changwu Wei explored the relationship among job demands, work engagement, work–life balance, and the well-being of Chinese college teachers. The findings indicated that work–life balance was a positive factor in promoting well-being; job demands negatively affected work–life balance; and work engagement positively affected work–life balance. The seventh article by Amal Al Yammahi from the UAE investigated the status of qualified Education Alumni who were unemployed, but interested in running their own businesses or taking a leadership role, particularly in the nursery sector. The study provided the alumni with an opportunity to widen their knowledge and take the initiative to save this sector, by joining an Entrepreneurship Mentorship Program (EMP). The findings recommend the development of remote workshops for graduates that promote the significance of starting up businesses, and taking leadership roles amongst women in the UAE. The final article in this issue is from Nauwelaerts, Doumen, and Verhaert who investigated the open-admission system of the Belgian higher education, specifically, the development of a new orientation tool to support teachers and the teacher board in their guiding role for high-school students transitioning to higher education. The orientation tool considered a student's high school GPA, and the match between their chosen field of study in secondary school, and their intended/chosen Bachelor programme in higher education.

 

From all of us at the IJHE team, we hope you found this issue educative and of interest to your practice and studies. The ongoing high quality of the IJHE would not be possible without the tireless commitment and dedication of the editorial and publishing team, and I would like to personally thank them for their efforts. Until the next issue is June, all the best.

Posted: 2022-12-23
More...

ERIC Metrics Report Generated for: International Journal of Higher Education

This report shows the number of views of the ERIC records for your content and the number of PDF downloads if you permit the full text to display in ERIC.

These statistics are for the six-month period from July 1, 2022 to December 31, 2022.

A view is counted whenever a user accesses the abstract.
A download is recorded whenever a user opens the PDF attached to the ERIC record.

This report is only for your content hosted on the ERIC digital library of education research at https://eric.ed.gov. It does not include the views at third-party providers of ERIC or at the publisher's website. You can learn more about the metrics report in this video: https://www.youtube.com/watch?v=Z9-5yRKMW5o.

The first table shows the total visits and downloads for your currently indexed source(s). In the "Views and Downloads" column the total views are visualized in green and downloads in blue. The table is followed by a list of up to ten (10) articles or document titles with the most total views for each source. We are unable to give statistics for all articles.

If your method of submission is email (ERIC@ed.gov) or an ERIC ftp account, be sure to send your current content. New records for your content are available in ERIC 8-10 weeks after we receive it.

If you have questions or need assistance contact us at ERICRequests@ed.gov.

Looking to link to ERIC records on your website? ERIC has developed an API that can help you query the ERIC metadata. For more information and tips see https://eric.ed.gov/?api.

| | | | |
| --- | --- | --- | --- |
| Source Name | All Views | All Downloads | Activity Chart |
| International Journal of Higher Education | 72,307 | 45,997 |   |

International Journal of Higher Education

| | | | |
| --- | --- | --- | --- |
| Title | URL | Views | Downloads |
| Understanding and Applying Research Paradigms in Educational Contexts | | 3,945 | 2,072 |
| Distinguishing between Theory, Theoretical Framework, and Conceptual Framework: A Systematic Review of Lessons from the Field | | 3,502 | 1,966 |
| Mental Health and Academic Performance of First-Year College Students | | 2,772 | 981 |
| EFL Students Perspective towards Online Learning Barriers and Alternatives Using Moodle/Google Classroom during COVID-19 Pandemic | | 1,259 | 544 |
| The Emotional Impact of Social Media in Higher Education | | 1,177 | 930 |
| A Study on the Usefulness of Audio-Visual Aids in EFL Classroom: Implications for Effective Instruction | | 1,106 | 446 |
| Academic Performance, Employment, and Sleep Health: A Comparison between Working and Nonworking Students | | 1,085 | 837 |
| Understanding the Most Important Facilitators and Barriers for Online Education during COVID-19 through Online Photovoice Methodology | | 933 | 356 |
| Motivating Factors for Adult Learners in Higher Education | | 864 | 412 |
| A Paradigm Shift of Learning in Maritime Education amidst COVID-19 Pandemic | | 829 | 250 |

 

Posted: 2021-07-04
More...

Call for Papers: IJHE Special Issue (August 2023)- 'Teaching, learning and the student experience'

In order to better serve our academic community and deal with more focused topics with high current interest, we decide to publish a special issue in August, 2023. In this special issue, we invite authors to submit review and original articles on the theme of Teaching, learning and the student experience.

Theme: Teaching, learning and the student experience

It includes:

Learning modes, feedback, and assessment
Models and spaces of learning and teaching
Curricula and assessment for effective learning
Indigenous education and knowledges
Data-informed analytics to enhance and support learning
Academic and learning support
Student diversity, inclusion, identities, promoting success
Challenging disciplinary boundaries
Learning technologies and the expansion of the classroom
International and interprofessional education
The COVID-19 pandemic and its impact on learning success.

The paper should be written in professional English. The length of 3000-8000 words is preferred. All manuscripts should be prepared in MS-Word format, and submitted online: http://ijhe.sciedupress.com or sent to: ijhe@sciedupress.com

Dates and Timelines 

The special issue will be published on August 25, 2023.

The submissions window opens on March 10, 2023.

Paper Submission deadline: July 1, 2023

For any further information about special issue, please contact with us by email:  ijhe@sciedupress.com

Thank you for your time reading this announcement and I am looking forward to receiving your submission.

Posted: 2021-01-11
More...

Call for Papers (June, 2023)---International Journal of Higher Education

We are seeking submissions for forthcoming issue published in June 2023. The paper should be written in professional English. The length of 3000-8000 words is preferred. All manuscripts should be prepared in MS-Word format, and submitted online: http://ijhe.sciedupress.com or sent to: ijhe@sciedupress.com

For any further information about the journal, please log on its website: http://ijhe.sciedupress.com

Deadline for Submission (June Issue): May 25, 2023

Posted: 2022-12-20
More...
Vol 12, No 2 (2023)
International Journal of Higher Education, Vol. 12, No. 2, April 2023
Table of Contents
Articles
| | | |
| --- | --- | --- |
| | Jana-Kristin von Wachter, Doris Lewalter | p1 |
| | | |
| --- | --- | --- |
| | Mercedes F. Bernal Lloréns, Juan P. Sánchez-Ballesta | p27 |
| | | |
| --- | --- | --- |
| | Miri Ben-Amram, Nitza Davidovitch | p36 |
| | | |
| --- | --- | --- |
| | Erna Nauwelaerts, Sarah Doumen, Guido Verhaert | p86 |