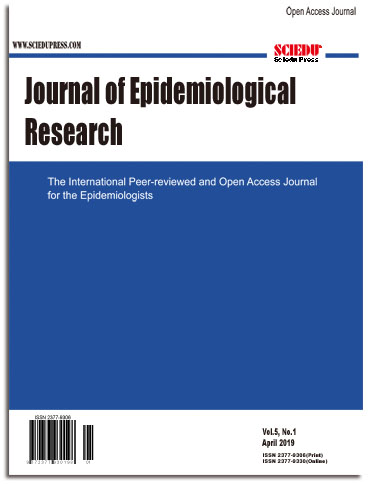 Journal of Epidemiological Research (JER) is an international, open access, peer-reviewed journal that publishes recent developments in the field of epidemiology. JER is published in both print and online versions, and the online version is available for free.
The journal will consider any articles that expand the field of disease etiology, transmission, outbreak investigation, disease surveillance and screening, biomonitoring, and comparisons of treatment effects such as in clinical trials. It aims at both fellow epidemiologists and those who use epidemiologic data, including public health workers and clinicians.
Areas include but not limited to:
Infectious disease epidemiology

Occupational Injury & Illness epidemiology

Cardiovascular disease epidemiology

Cancer epidemiology

Nutritional epidemiology

Cognitive epidemiology

Neuroepidemiology

Injury epidemiology

Epidemiology of Aging

Oral/Dental epidemiology

Reproductive epidemiology

Obesity/diabetes epidemiology

Renal epidemiology

Intestinal epidemiology

Psychiatric epidemiology

Respiratory epidemiology

Pediatric epidemiology

Genetic epidemiology


Quantitative parasitology
To facilitate rapid publication and to minimize administrative costs, the journal accepts Online submission and Email submission. All manuscripts and any supplementary material can be submitted via the journal's Online Submission or email to jer@sciedupress.com. For online submission, please create a new account and then follow the instructions given on the screen.
JER's Sections:
Original Articles, Case Reports, Reviews.
Statistics
2021: Articles Received: 5; Accepted: 51; Rejected: 0; Published: 2; Retracted:0
2020: Articles Received: 7; Accepted: 5; Rejected: 0; Published: 5; Retracted:0
2019: Articles Received: 10; Accepted: 5; Rejected: 0; Published: 7; Retracted: 0
2018: Articles Received: 19; Accepted: 13; Rejected: 10; Published: 14; Retracted: 0
2017: Articles Received: 26; Accepted: 16; Rejected: 7; Published: 17; Retracted: 0
2016: Articles Received: 36; Accepted: 15; Rejected: 17; Published: 18; Retracted: 0
---------------------------------------------------------------------
What is e-Version FirstTM
e-Version First is a feature offered through our journal platform. It allows PDF version of manuscripts that have been peer reviewed and accepted, to be hosted online prior to their inclusion in a final printed journal. Readers can freely access or cite the article. We aim to publish accepted manuscripts in e-Version First in two week's time after the final draft completed.
---------------------------------------------------------------------
Paper Selection and Publication Process
a) Upon receipt of paper submission, the Editor sends an E-mail of confirmation to the corresponding author within 1-3 working days. If you fail to receive this confirmation, your submission/e-mail may be missed. Please contact the Editor in time for that.

b) Peer review. We use double-blind system for peer-review; both reviewers and authors' identities remain anonymous. The paper will be peer-reviewed by three experts; two reviewers from outside and one editor from the journal typically involve in reviewing a submission. The review process may take four to ten weeks.

c) Notification of the result of review by E-mail.

d) The authors revise paper and pay the article processing charge.

e) E-journal in PDF is available on the journal's webpage, free of charge for download.
Announcements
Call for papers--Journal of Epidemiological Research

We are calling for papers for Vol. 5, No. 1 for Journal of Epidemiological Research. If you have the befitting manuscripts related to epidemiology, welcome to submit them to us (via jer@sciedupress.com or visit http://www.sciedupress.com/journal/index.php/jer/about/submissions). The review process takes about three weeks.

Posted: 2018-08-14
More...
Vol 8, No 1 (2022)
Journal of Epidemiological Research,Vol. 8, No. 1, 2022, e-Version First TM
Table of Contents
Original Articles
| | | |
| --- | --- | --- |
| | Gad Rennert, Hedy S. Rennert, Walid Saliba, Adane Kebede, Sisay Yifru, Liat V. Rennert, Abebaw Gebeyehu | p1 |