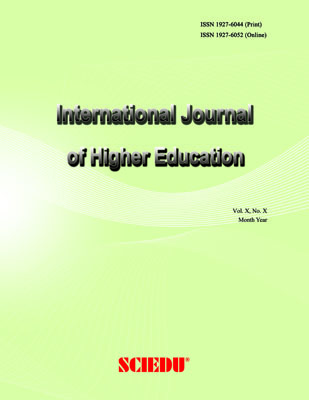 International Journal of Higher Education (ISSN 1927-6044  E-ISSN 1927-6052) is a double-blind peer-reviewed journal, published by Sciedu Press. The journal seeks to publish original research articles that are hypothetical and theoretical in its nature and that provide exploratory insights in the fields of educational theory, teaching method, instructional design, students management, case studies etc. in both undergraduate and graduate levels. The editorial board aims to publish high-quality research or review papers focusing on teaching, researching, training and applied work in the field of higher education. The journal is published in both printed and online version. The online version is free access and download.
This journal accepts article submissions online or by e-mail (ijhe@sciedupress.com).
ABSTRACTING AND INDEXING:
------------------------------------------------------------
Open Access Policy:
This journal provides immediate open access to its content on the principle that making research freely available to the public supports a greater global exchange of knowledge.
Copyright Policy:
Copyrights for articles are retained by the authors, with first publication rights granted to the journal. Authors have rights to reuse, republish, archive, and distribute their own articles after publication. The journal/publisher is not responsible for subsequent uses of the work.
This journal is licensed under a Creative Commons Attribution 4.0 License.
------------------------------------------------------------
Statistics
2022Q2: Articles Received: 45; Accepted: 21; Rejected: 21; Published: 7; Retracted: 0
2022Q1: Articles Received: 53; Accepted: 32; Rejected: 20; Published: 35; Retracted: 0
2021: Articles Received: 304; Accepted: 210; Rejected: 114; Published: 138; Retracted: 1
2020: Articles Received: 879; Accepted: 337; Rejected: 501; Published: 291; Retracted: 3
2019: Articles Received: 438; Accepted: 216; Rejected: 194; Published: 189; Retracted: 0
2018: Articles Received: 206; Accepted: 140; Rejected: 65; Published: 111; Retracted: 0
2017: Articles Received: 166; Accepted: 119; Rejected: 44; Published: 112; Retracted: 0
2016: Articles Received: 171; Accepted: 118; Rejected: 51; Published: 103; Retracted: 0
2015: Articles Received: 145; Accepted: 88; Rejected: 43; Published: 72; Retracted: 0
2014: Articles Received: 120; Accepted: 78; Rejected: 39; Published: 58; Retracted: 0
2013: Articles Received: 127; Accepted: 79; Rejected: 39; Published: 71; Retracted: 0
------------------------------------------------------------
Issues 
------------------------------------------------------------
What is e-Version FirstTM
e-Version First is a feature offered through our journal platform. It allows PDF version of manuscripts that have been peer reviewed and accepted, to be hosted online prior to their inclusion in a final printed journal. Readers can freely access or cite the article. We aim to publish accepted manuscripts in e-Version First in two week's time after the final draft completed.
------------------------------------------------------------
Paper Selection and Publishing Process
a) Submission Acknowledgement
When you submit a manuscript online, you will receive a submission acknowledgement letter sent by the online system automatically. For email submission, the editor or editorial assistant sends an e-mail confirmation to the submission's author within one to three working days. If you fail to receive this confirmation, please check your bulk email box or contact the editorial assistant by email: ijhe@sciedupress.com.
b) Basic Review
After receiving the submission, the editor or editorial assistant checks the paper's scope, language, bibliography, references, ethics, conflict of interest, etc.. Next a check for the similarity rate is done using CrossCheck, powered by iThenticate. Any manuscripts out of the journal's scope or containing plagiarism, including self-plagiarism, are rejected.
c) Peer Review
We use double-blind system for peer-review. The paper will be peer-reviewed by at least three experts; two reviewers from outside and one editorial staff from the journal typically involve in reviewing a submission. The review process may take 4-10 weeks. 
d) Decision Is Made
The decision to accept or reject an article is made based on the scores provided by the reviewers on this paper. When the average score is ≥2.75/5, the paper would be accepted for publication. In most cases, authors are required to revise the paper according to the comments from the reviewers and editorial staffs. If differences of opinion occur between reviewers, the editor-in-chief will weigh all comments and arrive at a balanced decision based on all comments, or a second round of peer review may be initiated.
e) Notification of the Result of Review
The result of review will be sent to the corresponding author and forwarded to other authors.
f) Article Processing Charge Is Paid
If the submission is accepted, the authors revise paper and pay the Article Processing Charge (600.00USD).
g) Publication Notice
The authors and readers will be notified and invited to visit our website for the newly published articles.
Announcements
IJHE Outstanding Reviewer Award 2021

IJHE Outstanding Reviewer Award recognizes the significant contribution of up to Four reviewers who have provided constructive, timely and productive feedback to manuscripts submitted to International Journal of Higher Education during the past year. Their insightful comments and suggestions have substantially helped our authors to improve their papers.

Selections are based on the quality, number and timeliness of the reviews completed. Outstanding Reviewers will be granted with an award certificate and an APC waiver for one article accepted by the journal that is submitted within 12 months after receiving the award.

We are delighted to present the 'IJHE Outstanding Reviewer Award 2021' to: 

*  Dr. Ingrid Harrington, University of New England, Australia

*  Dr. Jitendra Singh, Minnesota State University Moorhead, United States

*  Dr. Win Whelan, St. Bonaventure University, United States

*  Dr. Yousif Abdelbagi Abdalla Omer, University of Sharjah, The United Arab Emirates 

IJHE Editorial staff is grateful to all the reviewers for their support in providing well-written and punctual reviews in a single year. Without these anonymous, conscientious, impartial and timely peer review comments, it would be impossible to maintain the high standards of the journal.

 

How to be Considered:

For those of you who have not reviewed for IJHE, but would like to do so, please contact us for the application form at: ijhe@sciedupress.com For the information in details about the journal,  please log on the website: http://ijhe.sciedupress.com  

Posted: 2022-02-21
More...

ERIC Metrics Report Generated for: International Journal of Higher Education

This report shows the number of views of the ERIC records for your content and the number of PDF downloads if you permit the full text to display in ERIC. These statistics are for the six-month period from January 1, 2021 to June 30, 2021.

• A view is counted whenever a user accesses the abstract.

• A download is recorded whenever a user opens the PDF attached to the ERIC record.

This report is only for your content hosted on the ERIC digital library of education research at https://eric.ed.gov. It does not include the views at third-party providers of ERIC or at the publisher's website. You can learn more about the metrics report in this video: https://www.youtube.com/watch?v=Z9-5yRKMW5o

The first table shows the total visits and downloads for your currently indexed source(s). In the "Views and Downloads" column the total views are visualized in green and downloads in blue. The table is followed by a list of up to ten (10) articles or document titles with the most total views for each source. We are unable to give statistics for all articles.

| | | | |
| --- | --- | --- | --- |
| Source Name | All Views | All Downloads | Activity Chart |
| International Journal of Higher Education | 56,219 | 44,797 |   |




| | | | | |
| --- | --- | --- | --- | --- |
|   | Title | URL | Views | Downloads |
| 1.  | Understanding and Applying Research Paradigms in Educational Contexts | | 3,379 | 1,778 |
| 2.  | Understanding the Most Important Facilitators and Barriers for Online Education during COVID-19 through Online Photovoice Methodology | | 2,721 | 1,071 |
| 3. | The Emotional Impact of Social Media in Higher Education | | 2,220 | 1,703 |
| 4. | Mental Health and Academic Performance of First-Year College Students | | 1,432 | 667 |
| 5. | Distinguishing between Theory, Theoretical Framework, and Conceptual Framework: A Systematic Review of Lessons from the Field | | 1,212 | 832 |
| 6.  | The Determinant of Organizational Culture and Its Impact on Organization: A Conceptual Framework | | 950 | 831 |
| 7.  | Motivating Factors for Adult Learners in Higher Education | | 923 | 471 |
| 8.  | A Study on the Usefulness of Audio-Visual Aids in EFL Classroom: Implications for Effective Instruction | | 920 | 414 |
| 9. | The Relationship between Ethical Leadership Styles and Employees Effective Work Practices | | 841 | 561 |
| 10. | Do You Want Your Students to Be Job-Ready with 21st Century Skills? Change Pedagogies: A Pedagogical Paradigm Shift from Vygotskyian Social Constructivism to Critical Thinking, Problem Solving and Siemens' Digital Connectivism | | 757 | 367 |




Posted: 2021-07-04
More...

Call for Special Issue Proposals

In order to better serve our academic community and deal with more focused topics with high current interest, special issues are welcome at any time during the year in any fields of higher education subjects. They should be organized by recognized experts in the area and attract articles of the highest quality.

Proposals for Special Issue should include the following: 

A suggested title for the Special Issue 
The journal for which the Special Issue is intended 
Proposed Aims and Scope, giving an overview of the Special Issue's intended focus and a list of the topics to be covered 
The Guest Editors who are willing to manage the Special Issue, including their names, emails, affiliations, and a short biography 
(one paragraph) of each of the Guest Editors 

We would like to cooperate with other institutions to publish special issues. In this regard, the following points should be considered:

1. If you would like to publish a special issue, please discuss it with us at least five months before publication to give us time to prepare.
2. You should pay an article processing charge of 600.00 USD per article. Usually, we publish eight to thirty articles per issue.
3. We will offer you a number of printed journals—usually, two copies of each article.
4. We provide you with a free e-journal in PDF, if you need it.
5. You may nominate guest editors and reviewers for the special issue, and we will list their names in the printed version.
6. You can arrange peer reviews by your nominated guest editors and reviewers; otherwise, our editors and reviewers can do it.

All proposals should be submitted to ijhe@sciedupress.com, and they are subject to approval by the journal editorial board.

Posted: 2021-01-01
More...

International Journal of Higher Education, Vol. 11, No. 3 Published

International Journal of Higher Education, which is a double-blind peer-reviewed journal, published by Sciedu Press, Vol. 11, No. 3, has been published. Please download the e-journal in PDF from: https://www.sciedupress.com/journal/index.php/ijhe/issue/archive free of charge.

If you want to keep printed journals, please order them on the website: http://www.sciedupress.com/store

We are seeking submissions for forthcoming issues published in August, October and December 2022. The paper should be written in professional English. The length of 3000-8000 words is preferred. All manuscripts should be prepared in MS-Word format, and submitted online: http://ijhe.sciedupress.com or sent to: ijhe@sciedupress.com

For any further information about the journal, please log on its website: http://ijhe.sciedupress.com

Posted: 2022-04-20
More...
Vol 11, No 5 (2022): [In Progress]
International Journal of Higher Education, Vol. 11, No. 5, October 2022
Table of Contents
Articles
| | | |
| --- | --- | --- |
| | Kuantean Wongchantra, Prayoon Wongchantra, Uraiwan Praimee, Kannika Sookngam, Suparat Ongon, Likhit Junkaew, Phanadda Ritsumdaeng, Surasak Kaeongam, Thongchai Pronyusri | p1 |
| | | |
| --- | --- | --- |
| | Sam Ramaila, Anwar Junior Molwele | p9 |
| | | |
| --- | --- | --- |
| | Irina Rotnitsky, Roman Yavich, Nitza Davidovich | p18 |
| | | |
| --- | --- | --- |
| | Karamjeet K. Singh, Tara Allohverdi, Steffen Graether | p70 |
| | | |
| --- | --- | --- |
| | Cynthia S. Villalobos, Nichole R. Walsh | p76 |
| | | |
| --- | --- | --- |
| | David M Beauchamp, Jennifer M Monk | p87 |
| | | |
| --- | --- | --- |
| | Adeline Dugerdil, Lara Sponagel, Awa Babington-Ashaye, Antoine Flahault | p102 |
| | | |
| --- | --- | --- |
| | Ali Hubais, Muhammad Muftahu | p134 |