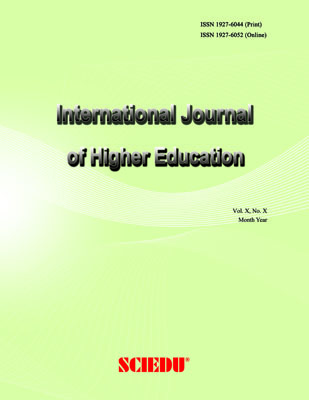 International Journal of Higher Education (IJHE) is a double-blind peer-reviewed journal, published by Sciedu Press. The journal seeks to publish original research articles that are hypothetical and theoretical in its nature and that provide exploratory insights in the fields of educational theory, teaching method, instructional design, students management, case studies etc. in both undergraduate and graduate levels. The editorial board welcomes high-quality research or review papers focusing on teaching, researching, training and applied work in the field of higher education. The journal is published in both printed and online version. The online version is free access and download.
This journal accepts article submissions online or by e-mail (ijhe@sciedupress.com).
ABSTRACTING AND INDEXING:
Statistics
2021: Articles Received: 304; Accepted: 210; Rejected: 114; Published: 138; Retracted: 1
2020: Articles Received: 879; Accepted: 337; Rejected: 501; Published: 291; Retracted: 3
2019: Articles Received: 438; Accepted: 216; Rejected: 194; Published: 189; Retracted: 0
2018: Articles Received: 206; Accepted: 140; Rejected: 65; Published: 111; Retracted: 0
2017: Articles Received: 166; Accepted: 119; Rejected: 44; Published: 112; Retracted: 0
2016: Articles Received: 171; Accepted: 118; Rejected: 51; Published: 103; Retracted: 0
2015: Articles Received: 145; Accepted: 88; Rejected: 43; Published: 72; Retracted: 0
2014: Articles Received: 120; Accepted: 78; Rejected: 39; Published: 58; Retracted: 0
2013: Articles Received: 127; Accepted: 79; Rejected: 39; Published: 71; Retracted: 0
------------------------------------------------------------
Issues 
------------------------------------------------------------
What is e-Version FirstTM
e-Version First is a feature offered through our journal platform. It allows PDF version of manuscripts that have been peer reviewed and accepted, to be hosted online prior to their inclusion in a final printed journal. Readers can freely access or cite the article. We aim to publish accepted manuscripts in e-Version First in two week's time after the final draft completed.
------------------------------------------------------------
Paper Selection and Publishing Process
a) Submission Acknowledgement
When you submit a manuscript online, you will receive a submission acknowledgement letter sent by the online system automatically. For email submission, the editor or editorial assistant sends an e-mail confirmation to the submission's author within one to three working days. If you fail to receive this confirmation, please check your bulk email box or contact the editorial assistant by email: ijhe@sciedupress.com.
b) Basic Review
After receiving the submission, the editor or editorial assistant checks the paper's scope, language, bibliography, references, ethics, conflict of interest, etc.. Next a check for the similarity rate is done using CrossCheck, powered by iThenticate. Any manuscripts out of the journal's scope or containing plagiarism, including self-plagiarism, are rejected.
c) Peer Review
We use double-blind system for peer-review. The paper will be peer-reviewed by at least three experts; two reviewers from outside and one editorial staff from the journal typically involve in reviewing a submission. The review process may take 4-10 weeks. 
d) Decision Is Made
The decision to accept or reject an article is made based on the scores provided by the reviewers on this paper. When the average score is ≥2.75/5, the paper would be accepted for publication. In most cases, authors are required to revise the paper according to the comments from the reviewers and editorial staffs. If differences of opinion occur between reviewers, the editor-in-chief will weigh all comments and arrive at a balanced decision based on all comments, or a second round of peer review may be initiated.
e) Notification of the Result of Review
The result of review will be sent to the corresponding author and forwarded to other authors.
f) Article Processing Charge Is Paid
If the submission is accepted, the authors revise paper and pay the Article Processing Charge (600.00USD).
g) Publication Notice
The authors and readers will be notified and invited to visit our website for the newly published articles.
Announcements
Call for Papers: IJHE Special Issue - 'Creating Sustainable Higher Education Learning Environments in the Era of the Posthuman'

Accreditation Status: DHET Accredited journal in South Africa




Guest Editors

Prof. Sechaba Mahlomaholo, University of Mpumalanga, South Africa

Dr. Bekithemba Dube, University of the Free State, South Africa

 

Introduction

The period around 2020 and 2021 has witnessed unprecedented convergence of two global but seemingly contradictory phenomena. The Covid-19 pandemic on the one hand and the massive transformation of education, especially higher education on the basis of (emergency) remote teaching and learning technologies, on the other. However the jury is still out on what really caused the outbreak of the pandemic. There seems to be emerging agreement that it is a symptom of the era of the Anthropocene, that is marked by wanton destruction of, and disrespect for the environment including animals, other humans, non-humans, plants and inanimate objects. Other views go as far as to argue that the pandemic was nature's way of reclaiming its destroyed spaces and in the process correcting the damage caused by humans who are so reckless with their environment, hence the disease that engulfed the entire globe within days. The Anthropocene is upon us, so does the argument go. In the history of the world, the past two centuries witnessed unparalleled destruction of the planet by humans that even changed the climatic conditions thereof resulting in global warming, desertification, highest levels of water and atmospheric pollution, unemployment, poverty, hunger, violence, vandalism, crime, rape, xenophobia, gender-based murders, unknown and new deceases, you name it. All these sacrifices at the alter of greed and the human being's insatiable appetite for consumption of everything, without thinking about the future generation and the sustainability of the planet.

At the same time, one would say almost timely, technological advances ushered in the era of the Fourth Industrial Revolution - Industrie 4.0. Before 2020 in South Africa and across the world, the pace of higher education institutions to embrace these new technologies was very slow. But the lockdown which was necessary in order to curb the spread of the Covid - 19, pushed these institutions to adopt remote teaching and learning strategies, almost immediately. To date there is even a race to participate in the production and use of artificial intelligence - AI which is even a step higher than 'mere' digitisation. The latter is fully in place across all higher education institutions in the country. These technologies are enabling humans to continue with their activities, like teaching and learning effectively, even though remotely or in a blended way in the era of Covid-19. The restrictions that were placed by nature against human activities are overcome. Industrie 4.0 with its attended artificial intelligence has accelerated these processes even further. Adaptive Learning - AL as an example of the software in devices that use sensors and algorithms, is enabling students and their lecturers alike to perform academically and otherwise better, far beyond their so-called natural human abilities. For example through AL, a student's learning is personalised, individualised and customised to his or her particular needs, orientations, styles of learning, preferences, etc. AL functions like a companion, a buddy who can respond to all the students enquiries and questions. It scaffolds and mediates the learning from where a student is to the required levels. It suggests what content to learn and how to learn it with ease. It is there ubiquitously to assist the student. It functions like an extension of the student's intellect. The human and the machine under such circumstances have merged into a new being with an identity beyond that of a human.

This is the subject matter of the posthuman where the identity of being human has become perforated. It has become liquidified and cannot be located in one place only. The student as in the example above is in Europe, in Africa and the East, everywhere through the capabilities of AL. S/he can know and participate in discussions, in learning and any activity from anywhere. Time and space no longer have a hold on the human being. S/he cannot be arrested at any one level of academic performance. His/her ability to collaborate with other students, libraries, academics, or whomever are extend beyond imagination. His/her compassion is at its peak because s/he learns at his/her own pace and learns what s/he likes. His/her corporeality though seeming to be located in a defined space, his/her entire being is not. It is this new identity that Donna Haraway refers to as 'the cyborg' in order to use a metaphor close to the science fiction's bionic man whose identity is in the interface between human and machine, among the human and the non-human, as well as the climaxing of the animal-object-human historical development. The student referred to about above, is brought back to the initial reality of being one with it (reality). S/he just a cog in this huge universal machine. Differentials in terms of any marker, real or imagined like gender, race, socio-economic status, religious, etc. do not matter as all are one. This conception extends even beyond the African notion of the 'I' which is assumed to be built, couched and dependent on others. The conventional 'I am because we are' is exponentially multiplied and multiple layered to include machine, computers, others, etc.

It is in the consideration of the above that this special issue calls on contributions to help unravel the nature of the sustainable higher education learning environments in the context of the era of the posthuman. The notion of sustainability is related to UNESCO's 17 Sustainable Development Goals (SDGs) focusing on the economic development of all in an environmentally sustainable manner towards the social inclusion of all. The idea of learning environments refers to contexts where identities of students and academics as well as other stakeholders in higher education are created and restructured accordingly. The following foci by researchers will assist in achieving the aim mentioned above;

 

Theorisation of the posthuman identity at its relevance to higher education practices currently.
Analyse the challenges and responses of higher education in the context of the posthuman condition.
Reflect on the issues of the binaries based on the cyborg identity in higher education
Teaching and learning technologies in higher education in the era of the posthuman
Critique virtual realities in the posthuman condition of higher education
Address the ethics of the use of Artificial Intelligence in higher education
Interrogate issues of race, culture, gender and/or disability in higher education in the context of the posthuman.
 Ensuring and assuring quality of curriculum and governance in higher education during the Posthuman.
 Critical analyse the creation of sustainable learning environments in the posthuman.

 

Contribution Process

Interested contributors are requested to submit their abstracts to the editors: Prof Sechaba Mahlomaholo Geoffrey.Mahlomaholo@ump.ac.za and Dr Bekithemba Dube via Dubeb@ufs.ac.za The response will be provided within a maximum of three days, upon which you will be requested to prepare and make your submission. Article Process Cost is USD 600. The Journal will only accept papers of high quality exhibiting understanding of theory as applied in various discipline within the special issue. Submission, author's guidelines, including formatting and referencing (APA) could be found here:

 

Abstracts for Papers Should Include

A succinct title
Author/s name/s
Author/s institutional affiliation
Contact details
An abstract (250 words) includes a brief introduction of the problem, the importance/purpose, the contribution to knowledge, the methodological approach and key findings if available.
Five keywords

 

Timeframes (30 October, 2021 – 25 February, 2022)

30 October 2021: Deadline for submission of abstracts
7 November 2021: Communication with authors of accepted articles
31December 2021: Final date for submission of articles
25 January 2022: Peer review reports
10 February 2022: Final date for submission of revisions
25 February 2022: Publication of all accepted articles

 

Authors' Responsibility

Only a similarity/plagiarism index of 10% or less will be considered for review.
All articles need to be language edited before submission for review. Proof for language editing should be attached on submission

 

Profile of the Guest Editors

Prof. Sechaba MG Mahlomaholo (University of Mpumalanga)

Sechaba MG Mahlomaholo is a Professor of Education at the University of Mpumalanga, South Africa. He is a graduate of the Universities of Harvard and the Western Cape. He has guest edited 9 accredited and peer reviewed academic journals in Education. He has been the Dean of the Faculty of Education at the University of the Free State, the Deputy Vice Chancellor for Academic Affairs and Research at the Walter Sisulu University and of Teaching and Learning at the University of Zululand. He has supervised and co-supervised close to a hundred Masters dissertations and PhD theses in total. He is occasionally invited to review research funding applications by the National Research Foundation and has to date been keynote speaker at conferences in St Petersburg State University, Canterbury Christ Church University and Aalborg University in Denmark.

 

Dr. Bekithemba Dube (University of the Free State)

Dr Bekithemba Dube is a senior lecturer at the University of the Free State, South Africa. He is the program director for Foundation and Intermediate Phase. He is prolific researcher in education, religion and politics in post-colonial Africa. He has in the past 2 years published over 40 articles and has received various awards for being the top research in the faculty of education. He has published a book on Post- Colonial Religio-Political and Religious Education in Crisis, the case of Zimbabwe, South Africa and Tanzania. He is a visiting international scholar at the Appalachian State University in United States of America.

Posted: 2021-10-08
More...

ERIC Metrics Report Generated for: International Journal of Higher Education

This report shows the number of views of the ERIC records for your content and the number of PDF downloads if you permit the full text to display in ERIC. These statistics are for the six-month period from January 1, 2021 to June 30, 2021.

• A view is counted whenever a user accesses the abstract.

• A download is recorded whenever a user opens the PDF attached to the ERIC record.

This report is only for your content hosted on the ERIC digital library of education research at https://eric.ed.gov. It does not include the views at third-party providers of ERIC or at the publisher's website. You can learn more about the metrics report in this video: https://www.youtube.com/watch?v=Z9-5yRKMW5o

The first table shows the total visits and downloads for your currently indexed source(s). In the "Views and Downloads" column the total views are visualized in green and downloads in blue. The table is followed by a list of up to ten (10) articles or document titles with the most total views for each source. We are unable to give statistics for all articles.

| | | | |
| --- | --- | --- | --- |
| Source Name | All Views | All Downloads | Activity Chart |
| International Journal of Higher Education | 56,219 | 44,797 |   |




| | | | | |
| --- | --- | --- | --- | --- |
|   | Title | URL | Views | Downloads |
| 1.  | Understanding and Applying Research Paradigms in Educational Contexts | | 3,379 | 1,778 |
| 2.  | Understanding the Most Important Facilitators and Barriers for Online Education during COVID-19 through Online Photovoice Methodology | | 2,721 | 1,071 |
| 3. | The Emotional Impact of Social Media in Higher Education | | 2,220 | 1,703 |
| 4. | Mental Health and Academic Performance of First-Year College Students | | 1,432 | 667 |
| 5. | Distinguishing between Theory, Theoretical Framework, and Conceptual Framework: A Systematic Review of Lessons from the Field | | 1,212 | 832 |
| 6.  | The Determinant of Organizational Culture and Its Impact on Organization: A Conceptual Framework | | 950 | 831 |
| 7.  | Motivating Factors for Adult Learners in Higher Education | | 923 | 471 |
| 8.  | A Study on the Usefulness of Audio-Visual Aids in EFL Classroom: Implications for Effective Instruction | | 920 | 414 |
| 9. | The Relationship between Ethical Leadership Styles and Employees Effective Work Practices | | 841 | 561 |
| 10. | Do You Want Your Students to Be Job-Ready with 21st Century Skills? Change Pedagogies: A Pedagogical Paradigm Shift from Vygotskyian Social Constructivism to Critical Thinking, Problem Solving and Siemens' Digital Connectivism | | 757 | 367 |




Posted: 2021-07-04
More...

Call for Papers-International Journal of Higher Education

International Journal of Higher Education, which is a double-blind peer-reviewed journal, published bimonthly by Sciedu Press.

We are seeking submissions for forthcoming issues published in February, April and June 2022. The paper should be written in professional English. The length of 3000-8000 words is preferred. All manuscripts should be prepared in MS-Word format, and submitted online: http://ijhe.sciedupress.com or sent to: ijhe@sciedupress.com

For any further information about the journal, please log on its website: http://ijhe.sciedupress.com

Posted: 2020-07-06
More...

Recruitment of Reviewers

We are recruiting reviewers for the journal. If you are interested to be a reviewer, it's our great honor to invite you to join us. Please find the application form and details at: http://sciedupress.com/reviewer and send the application form to: ijhe@sciedupress.com For further information about the journal, please log on its website: http://ijhe.sciedupress.com/ If you have any question please contact with me by email: ijhe@sciedupress.com
Posted: 2019-10-01
More...
Vol 11, No 7 (2022)
International Journal of Higher Education, Vol. 11, No. 7 (Special Issue), 2022
Table of Contents
Articles
| | | |
| --- | --- | --- |
| | Pauline Edwige Ngo-Henha, Njabulo Khumalo | p1 |
| | | |
| --- | --- | --- |
| | Didimalang Matsheka, Tendayi Garutsa | p13 |