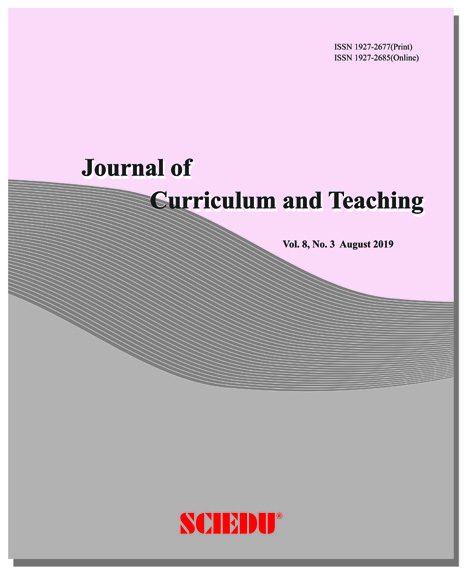 Journal of Curriculum and Teaching (JCT) is a peer-reviewed journal, published by Sciedu Press. It is devoted to publishing manuscripts in curriculum and instruction, learning and teaching, and related disciplines at global and local levels. The journal is published quarterly (February, May, August and November) in both online and printed versions.
Areas include but not limited to:
Curriculum theory
Teaching methodology
Program innovation
Policy development
Professional ethics
Assessment in education
To facilitate rapid publication and to minimize administrative costs, contributions to Journal of Curriculum and Teaching (JCT) can be submitted via the journal's online submission system Online Submission or email to jct@sciedupress.com.
For online submission, please register first and then follow the instructions given on the screen. Questions may be addressed to the editorial assistant: jct@sciedupress.com
JCT's Sections:
Original Research, Review Articles, and Case Studies
Information For Authors

 
Interested in submitting to this journal? We recommend that you review the About the Journal page for the journal's section policies, as well as the Author Guidelines. Authors need to register with the journal prior to submitting or, if already registered, can simply log in and begin the five-step process.
Announcements
Paper Selection and Publication Process

a). Upon receipt of paper submission, the Editor sends an E-mail of confirmation to the corresponding author within 1-3 working days. If you fail to receive this confirmation, your submission/E-mail may be missed. Please contact the Editor in time for that.

b). Peer review. We use double-blind system for peer-review. Both reviewers and authors' identities remain anonymous. The paper will be peer-reviewed by three experts: one is an editorial staff and the other two are external reviewers. The review process may take 4-10 weeks. In some rare cases, according to the recommendations from editors and reviewers, a second round of peer review may be initiated. Please see a sample of Result of Review.

c). Notification of the result of review by E-mail.

d). The authors revise paper and pay Article Processing Charge (Formatting and Hosting) 1200USD.

e). E-journal in PDF is available on the journal's webpage, free of charge for download.

Posted: 2023-01-01

Journal of Curriculum and Teaching Indexed in Scopus

We are pleased to announce that Journal of Curriculum and Teaching (ISSN / E-ISSN: 1927-2677 / 1927-2685) has been indexed in Scopus.

Posted: 2021-08-05
More...

ERIC Metrics Report

The top10 visits and downloads for Journal of Curriculum and Teaching indexed in ERIC(period from 01-01-2019 to 01-30-2023)

 

| | | | | |
| --- | --- | --- | --- | --- |
|   |   |   |   |   |
|   | Title | URL | Visits | Downloads |
|   | Constructivist Teaching/Learning Theory and Participatory Teaching Methods | | 802 | 1,888 |
|   | Achievement of Abraham Maslow's Needs Hierarchy Theory among Teachers: Implications for Human Resource Management in the Secondary School System in Rivers State | | 303 | 236 |
|   | Sensory Evaluation as a Tool in Determining Acceptability of Innovative Products Developed by Undergraduate Students in Food Science and Technology at the University of Trinidad and Tobago | | 561 | 176 |
|   | Creating Lifelong Learners: Fostering Facilitation, Modeling, & Choice in the Classroom | | 175 | 308 |
|   | From an Academician's Preschool Diary: Emergent Curriculum and Its Practices in a Qualified Example of Laboratory Preschool | | 170 | 173 |
|   | Culturally Responsive and Anti-Biased Teaching Benefits Early Childhood Pre-Service Teachers | | 143 | 250 |
|   | A Research on the Use of Social Media Networks by Teacher Candidates | | 141 | 762 |
|   | Researching Gender Professions: Nurses as Professionals | | 132 | 192 |
|   | Social Justice, Children's Needs and Rights: An Approach to Planning | | 498 | 358 |
|   | Integrated Arts-Based Teaching (IAT) Model for Brain-Based Learning | | 87 | 384 |

 

Posted: 2019-07-11

Policy Change of Free Print Journals

As you are aware, printing and delivery of journals results in causing a significant amount of detrimental impact to the environment. Being a responsible publisher and being considerate for the environment, we have decided to change the policy of offering free print journals for authors.

From July 1, 2018, we will not automatically provide authors free print journals. However, when authors really need free print copies, they are requested to kindly complete an application form to order printed copies. Once approved,  we will arrange print and delivery, for a maximum of two copies per article.  If authors require more than two copies, they are requested to order online at: store.sciedupress.com.

Additionally, we are happy to provide journal's eBook in PDF format for authors, free of charge. The eBook is the same as the printed version, but it is completely environmentally friendly. Please contact the journal editor to request eBook of the journal's issues.

We are committed to saving the planet for our future generations.

Posted: 2018-01-25

INDEX/LIST/ARCHIVE

Scopus







Library and Archives Canada






National Library of Australia






PKP Open Archives Harvester








Posted: 2016-12-12
Vol 12, No 6 (2023)
Vol. 12, No. 6, November 2023 
Table of Contents
Articles
| | | |
| --- | --- | --- |
| | Mónica Arnal-Palacián, Janelle M. Johnson | p1 |
| | | |
| --- | --- | --- |
| | Mamdouh Mosaad Helali | p12 |
| | | |
| --- | --- | --- |
| | Lauren Birney, Denise M. McNamara | p26 |
| | | |
| --- | --- | --- |
| | Tashieka S. Burris-Melville, Shalieka T. Burris | p39 |
| | | |
| --- | --- | --- |
| | Mohamad Salman Alkhazaleh, Shirin S. AlOdwan, Samer Abdel-Hadi, Reema Al-Qaruty, Bilal Fayiz Obeidat | p60 |
| | | |
| --- | --- | --- |
| | Tuti Marjan Fuadi, Rini Susiani, Dian Aswita | p69 |
| | | |
| --- | --- | --- |
| | Jiranattakorn Paorisankhunnakorn, Montree Wongsaphan | p78 |
| | | |
| --- | --- | --- |
| | Undie Stephen Bepeh, Richard Ayuh Ojini, Samuel David Udo, Effiong Abigail Aniefiok, Nkebem Ubong Bassey, Anthony Etta Bisong, Imoke John Eteng, Egbai Julius Michael, Aderibigbe Samson Akinwumi, Ewa James Abua, Uduak Edet Uwe, Mfon Ezekiel Usip, Abang Wubunguchuwe Ade, Undie Akomaye Agwu, Okoi Ikpi Inyang, Eke Vitalis Ugochukwu, Paul Ingiona Adie | p89 |
| | | |
| --- | --- | --- |
| | Romarzila Omar, Lina Busyra Safwan, Ruslan Abdullah, Hazhari Ismail, Seah Siok Peh, Nur Ain Farhana Kariuddin, Adibah Abu Bakar | p107 |
| | | |
| --- | --- | --- |
| | Charin Mangkhang, Nitikorn Kaewpanya, Monton Onwanna | p122 |
| | | |
| --- | --- | --- |
| | Khalo X., Kafu-Quvane B., Mzilikazi B., Mavuso MP, Olawumi KB | p133 |
| | | |
| --- | --- | --- |
| | Amani Abaullah BinJwair, Wafa Ayedh Al-Harthy | p143 |
| | | |
| --- | --- | --- |
| | Herlina Herlina, Rudi Susilana, Hernawati Hernawati, Angga Hadiapurwa | p162 |
| | | |
| --- | --- | --- |
| | Long Kim Vo, Bach Xuan Tran | p174 |
| | | |
| --- | --- | --- |
| | Fernando Riera, Diana Estrada, Solange E. Guerrero, Edwin Pacheco, Sofia Guevara, Raúl Arreaga | p197 |
| | | |
| --- | --- | --- |
| | Sayra Astrid Sujey Perez Reategui, Kelita Ytamar Rodríguez Rojase, Osmer A. Campos-Ugaz, Ronald M. Hernández, Miguel A. Saavedra-Lopez, Heriberto Solis Sosa, Lizzeth A. Garcia Flores | p206 |
| | | |
| --- | --- | --- |
| | Jan Hendriek Nunaki, Fransiska Ferlin Lettu, Jeni Jeni, Ristika Sari, Nicole Ester Sahertian, Insar Damopolii, Masra Latjompoh | p218 |
| | | |
| --- | --- | --- |
| | Wang Qiang, Salmiza Saleh | p230 |
| | | |
| --- | --- | --- |
| | Alejandro Almonacid-Fierro, Eugenio Merellano-Navarro, Jonathan Andrades-Moya, Ricardo Souza de Carvhalo | p242 |
| | | |
| --- | --- | --- |
| | Jesse D. Troy, Gina-Maria Pomann, Megan L. Neely, Steven C. Grambow, Gregory P. Samsa | p253 |
| | | |
| --- | --- | --- |
| | Khaled Younis Alderbashi | p265 |
| | | |
| --- | --- | --- |
| | Firda Nurul Fauziah, Kundharu Saddhono, Edy Suryanto | p283 |
| | | |
| --- | --- | --- |
| | Zhongyue Zhang, Ahmad Johari Bin Sihes | p298 |
| | | |
| --- | --- | --- |
| | Mingming Liu, Jiraporn Chano, Menglan Luo | p318 |
| | | |
| --- | --- | --- |
| | Sawitree Ranmechai, Apantee Poonputta | p330 |
| | | |
| --- | --- | --- |
| | Miral Nagy Fahmy Salama, Ramya Rathan, Anusha Sreejith | p338 |
| | | |
| --- | --- | --- |
| | Tengku Silvana Sinar, T. Thyrhaya Zein, Rohani Ganie, T. Syarfina, Mahriyuni Mahriyuni, Muhammad Yusuf, Rahmadsyah Rangkuti | p347 |