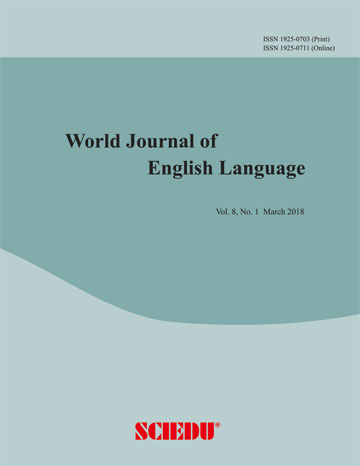 World Journal of English Language (ISSN 1925-0703  E-ISSN 1925-0711) is a peer-review journal, published by Sciedu Press. It is devoted to publishing articles in various aspects, fields and scopes of the English Language, such as but not limited to English literature, linguistics, teaching and learning English as a Second Language (ESL), as an Additional Language (EAL) or as a Foreign Language (TEFL). It is published semi-annually (March and September) in both online and printed versions.
The journal accepts article submissions online or by e-mail (wjel@sciedupress.com).
Abstracting and Indexing:
AE Global Index
Google Scholar
Harvard Library E-Journals
JournalSeek
Journal TOCs
Lockss
PKP Open Archives Harvester
Scilit
SHERPA/RoMEO
The Standard Periodical Directory
------------------------------------------
Open Access Policy:
This journal provides immediate open access to its content on the principle that making research freely available to the public supports a greater global exchange of knowledge.
Copyright Policy:
Copyrights for articles are retained by the authors, with first publication rights granted to the journal. Authors have rights to reuse, republish, archive, and distribute their own articles after publication. The journal/publisher is not responsible for subsequent uses of the work.
This journal is licensed under a Creative Commons Attribution 4.0 License.
------------------------------------------
Paper Selection and Publishing Process
a) Submission Acknowledgement
When you submit a manuscript online, you will receive a submission acknowledgement letter sent by the online system automatically. For email submission, the editor or editorial assistant sends an e-mail confirmation to the submission's author within one to three working days. If you fail to receive this confirmation, please check your bulk email box or contact the editorial assistant by email: elr@sciedupress.com.
b) Basic Review
The editor or editorial assistant determines whether the manuscript fits the journal's focus and scope. Next a check for the similarity rate is done using CrossCheck, powered by iThenticate. Any manuscripts out of the journal's scope or containing plagiarism, including self-plagiarism, are rejected.
c) Peer Review
We use a double-blind system for peer review; both reviewers' and authors' identities remain anonymous. The submitted manuscript will be reviewed by at least two experts: one editorial staff member as well as one to three external reviewers. The review process may take 4-10 weeks.
d) Decision Is Made
The decision to accept or reject an article is based on the suggestions of reviewers. If differences of opinion occur between reviewers, the editor-in-chief will weigh all comments and arrive at a balanced decision based on all comments, or a second round of peer review may be initiated.
e) Notification of the Result of Review
The result of review will be sent to the corresponding author and forwarded to other authors.
f) Article Processing Charge Is Paid
If the submission is accepted, the authors revise paper and pay the Article Processing Charge (600.00USD).
g) Publication Notice
The authors and readers will be notified and invited to visit our website for the newly published articles.
-----------------------------------------------------------------
What is e-Version FirstTM
e-Version First is a feature offered through our journal platform. It allows PDF version of manuscripts that have been peer reviewed and accepted, to be hosted online prior to their inclusion in a final printed journal. Readers can freely access or cite the article. We aim to publish accepted manuscripts in e-Version First in two week's time after the final draft completed.
-----------------------------------------------------------------
Announcements
WJEL: Call for papers for Vol. 12, No. 1, March 2022 issue

World Journal of English Language is now seeking submissions for Vol. 12, No. 1, March 2022 issue (Deadline: February 10, 2022). 

You may  register with the journal and submit online. You may also e-mail submissions to wjel@sciedupress.com

Posted: 2021-12-30
More...

Call for Papers: WJEL Special Issue - Impact of Education 4.0 for Second Language Learning and Teaching

Proposal

The change in worldwide mobility is a natural and inevitable feature today as we are in the digital era now. Education 4.0 is driven by the commencement of Industry 4.0, which is a present trend of digitalization and automation of industries. Technology integrated teaching and learning (Education 4.0) is useful for effective education. The concept of Education 4.0 has gained popularity in recent days. Education 4.0 methodologies have prompted areas of scholarly inquiry, new communicative practices, increasing opportunities for intercultural engagement, supporting new instructional formats and changing the day-to-day communication and learning practices of both teachers and students.

Without a doubt, there is no exemption for Second Language Learning and Teaching too. The adoption of Education 4.0 helps support the acquisition of Second Language Learning and Teaching easier. Therefore, this Special Issue aims to publish articles that focus on second language learning and teaching concerning digital integration and online methodologies (Education 4.0).

Posted: 2021-12-22
More...

World Journal of English Language Indexed in Scopus

We are pleased to announce that World Journal of English Language (ISSN 1925-0703 E-ISSN 1925-0711) has been indexed in Scopus since 2021. Scopus is the world's largest abstract and citation database of peer-reviewed literature, and is published by Elsevier B.V..

The World Journal of English Language editorial board congratulates everyone involved with the journal for their consistently hard work and attention. Thanks to all of you, the journal now enjoys a rising level of prestige in the publishing world.

Posted: 2021-12-13
More...
Vol 12, No 1 (2022): [In Progress]
Vol. 12, No. 1, March 2022
Table of Contents
Articles
| | | |
| --- | --- | --- |
| | Mohammad H. Al-khresheh | p1 |
| | | |
| --- | --- | --- |
| | Nur Azizah, Muchlas Suseno, Bahrul Hayat | p15 |
| | | |
| --- | --- | --- |
| | Vu Phi Ho Phi Pham, Truong Chinh Le, The Hung Phan, Ngoc Hoang Vy Nguyen | p27 |
| | | |
| --- | --- | --- |
| | Ridwin Purba, Berlin Sibarani, Sri Minda Murni, Amrin Saragih, Herman . | p40 |
| | | |
| --- | --- | --- |
| | Carmen Manuela Pereira Carneiro Lucas | p50 |
| | | |
| --- | --- | --- |
| | Nataliia Hromova, Maryna Kryvych, Nataliia Chernihivska, Tetiana Vinnytska, Ihor Bloshchynskyi | p74 |
| | | |
| --- | --- | --- |
| | Kheira Bedjaoui, Yousef Abu Amrieh | p83 |
| | | |
| --- | --- | --- |
| | Faiza Abdalla Elhussien Mohamed | p92 |
| | | |
| --- | --- | --- |
| | Cheryll Adviento-Rodulfa, May Rhea S. Lopez | p104 |
| | | |
| --- | --- | --- |
| | Zoriana Batrynchuk, Nadia Yesypenko, Ihor Bloshchynskyi, Kostiantyn Dubovyi, Olena Voitiuk | p115 |
| | | |
| --- | --- | --- |
| | Reimundus Raymond Fatubun, Markus Ricky Rumansara | p129 |
| | | |
| --- | --- | --- |
| | Sayed M. Ismail, Mohamed Ali Mohamed Kassem | p142 |