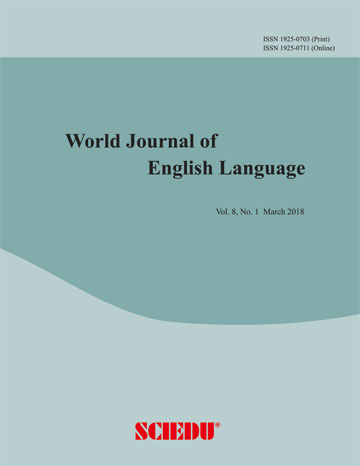 World Journal of English Language (ISSN 1925-0703  E-ISSN 1925-0711) is a peer-review journal, published by Sciedu Press. It is devoted to publishing articles in various aspects, fields and scopes of the English Language, such as but not limited to English literature, linguistics, teaching and learning English as a Second Language (ESL), as an Additional Language (EAL) or as a Foreign Language (TEFL). It is published semi-annually (March and September) in both online and printed versions.
The journal accepts article submissions online or by e-mail (wjel@sciedupress.com).
Abstracting and Indexing:
AE Global Index
Google Scholar
Harvard Library E-Journals
JournalSeek
Journal TOCs
Lockss
PKP Open Archives Harvester
Scilit
SHERPA/RoMEO
The Standard Periodical Directory
------------------------------------------
Open Access Policy:
This journal provides immediate open access to its content on the principle that making research freely available to the public supports a greater global exchange of knowledge.
Copyright Policy:
Copyrights for articles are retained by the authors, with first publication rights granted to the journal. Authors have rights to reuse, republish, archive, and distribute their own articles after publication. The journal/publisher is not responsible for subsequent uses of the work.
This journal is licensed under a Creative Commons Attribution 4.0 License.
------------------------------------------
Statistics
2021Q3: Articles Received: 32; Accepted: 18; Rejected: 12; Published: 16; Retracted: 0
2021Q2: Articles Received: 23; Accepted: 5; Rejected: 13; Published: 2; Retracted: 0
2021Q1: Articles Received: 13; Accepted: 6; Rejected: 6; Published: 2; Retracted: 0
2020: Articles Received: 54; Accepted: 26; Rejected: 24; Published: 12; Retracted: 0
2019: Articles Received: 77; Accepted: 42; Rejected: 32; Published: 15; Retracted: 3
2018: Articles Received: 49; Accepted: 23; Rejected: 21; Published: 10; Retracted: 0
2017: Articles Received: 47; Accepted: 32; Rejected: 23; Published: 20; Retracted: 1
2016: Articles Received: 57; Accepted: 30; Rejected: 25; Published: 17; Retracted: 0
-----------------------------------------------------------------
What is e-Version FirstTM
e-Version First is a feature offered through our journal platform. It allows PDF version of manuscripts that have been peer reviewed and accepted, to be hosted online prior to their inclusion in a final printed journal. Readers can freely access or cite the article. We aim to publish accepted manuscripts in e-Version First in two week's time after the final draft completed.
-----------------------------------------------------------------
Paper Selection and Publishing Process
a) Submission Acknowledgement
When you submit a manuscript online, you will receive a submission acknowledgement letter sent by the online system automatically. For email submission, the editor or editorial assistant sends an e-mail confirmation to the submission's author within one to three working days. If you fail to receive this confirmation, please check your bulk email box or contact the editorial assistant by email: elr@sciedupress.com.
b) Basic Review
The editor or editorial assistant determines whether the manuscript fits the journal's focus and scope. Next a check for the similarity rate is done using CrossCheck, powered by iThenticate. Any manuscripts out of the journal's scope or containing plagiarism, including self-plagiarism, are rejected.
c) Peer Review
We use a double-blind system for peer review; both reviewers' and authors' identities remain anonymous. The submitted manuscript will be reviewed by at least two experts: one editorial staff member as well as one to three external reviewers. The review process may take 4-10 weeks.
d) Decision Is Made
The decision to accept or reject an article is based on the suggestions of reviewers. If differences of opinion occur between reviewers, the editor-in-chief will weigh all comments and arrive at a balanced decision based on all comments, or a second round of peer review may be initiated.
e) Notification of the Result of Review
The result of review will be sent to the corresponding author and forwarded to other authors.
f) Article Processing Charge Is Paid
If the submission is accepted, the authors revise paper and pay the Article Processing Charge (600.00USD).
g) Publication Notice
The authors and readers will be notified and invited to visit our website for the newly published articles.
Announcements
WJEL: Call for papers for Vol. 12, No. 1, March 2022 issue

World Journal of English Language is now seeking submissions for Vol. 12, No. 1, March 2022 issue (Deadline: February 10, 2022). 

If you are interested in submitting to this journal, we recommend that you review the About the Journal page for the journal's section policies, as well as the Author Guidelines. Authors need to register with the journal prior to submitting, or if already registered can simply log in and begin the 5 step process.

Posted: 2021-09-01
More...

Changes to Article Processing Charges (APC)

Effective the 1st October 2021, the World Journal of English Language will increase its' APC from USD $300.00 to $600.00 USD per article. These additional costs will go towards enhancing the quality of services the World Journal of English Language offers to its authors and readers.

These new charges will not apply to manuscripts submitted before the 1st of October 2021 whose APCs are paid before the 15th of October 2021. However, the new charges will apply to manuscripts submitted before the 1st of October 2021 whose APCs are not paid before the 15th of October 2021.

Posted: 2021-09-01
More...

Announcing an 'Excellent Article' Reward for Author(s) of articles published in the World Journal of English Language

In order to improve the quality of the journal, the World Journal of English Language's editorial team will gift author(s) of excellent articles published in their journal a cash award of $300, effective from August 1, 2021. Click HERE to see the eligibility criteria for excellent articles.

Posted: 2021-07-18
More...
Vol 12, No 1 (2022): [In Progress]
Vol. 12, No. 1, March 2022
Table of Contents
Articles
| | | |
| --- | --- | --- |
| | Mohammad H. Al-khresheh | p1 |
| | | |
| --- | --- | --- |
| | Nur Azizah, Muchlas Suseno, Bahrul Hayat | p15 |
| | | |
| --- | --- | --- |
| | Vu Phi Ho Phi Pham, Truong Chinh Le, The Hung Phan, Ngoc Hoang Vy Nguyen | p27 |
| | | |
| --- | --- | --- |
| | Ridwin Purba, Berlin Sibarani, Sri Minda Murni, Amrin Saragih, Herman . | p40 |